Alissa is an early childhood music specialist, teaching music at Camp Mustang in Los Angeles and Valley Cat Music in North Hollywood. She has combined her interest in children's music with puppetry and ukulele by launching PuppetSnaps: an interactive, singalong, play along, dance along, clap along, music concert with puppetry for kids and their grownups! (also available for festivals, parties, pop up shows, and libraries)
Alissa began studying puppetry with John Tartaglia in 2005. She has been a featured participant at the National Puppetry Conference at the O'Neill Theater Center for several years where she studied with Eric Bass, Ines Zeller Bass, Ronald Binion, Phillip Huber, Paul Mesner, Martin P. Robinson, Robert Smythe, Richard Termine, and Hua Hua Zhang. She studied with Matt Vogel, Martin P. Robinson, and Peter Linz in a series of workshops sponsored by Sesame Workshop. Alissa is currently studying carving and puppet-making with Bernd Ogrodnik as a student in the Academy of the Wooden Puppet.
As the resident staff puppeteer in the Child Life Department of Mount Sinai Hospital from 2006 – 2012, Alissa performed on-camera hosting live game shows for KidZoneTV with her pink monster alter-ego, Penina. She also led puppet building workshops with the patients and their families in The Zone, playrooms and bedside.
Alissa's puppet theater credits include playing Fritz, the gay terrorist, in "Die Hard the Puppet Musical," all of the puppet characters in "Live Nude Girl," Mustard the Dog in "The Tales of Custard the Dragon," the feet of "Pinokenstein," and "EGO," Mick Jagger in "The Continuing Story of Carla Rhodes" a member of Cosmic Bicycle Theater's "Edward Lear's Absurd-Ditties" and in the UNIMA Award-winning cast of Kevin Augustine's "BRIDE." She was a featured performer at Great Small Works' International Toy Theater Festival, Banners & Cranks Festival, and Dragon*Con. She was part of the puppetry ensemble in the Pacific Symphony's production of "The Magic Flute." Plus many many puppet slams across the country
Most notably, Alissa plays Maggie Raccoon in "Slugs and Bugs" with Randall Goodgame. Additional television puppetry experience includes performing One-Eyed Bear on the CBS series "Life in Pieces," background puppetry on "Sesame Street," Trixie the Rabbit in the pilot of "Boom Chicka Boom," Ginger West Liberty for Princess Katie and Racer Steve's "Revved Up & Ready To Rock! – Live Concert DVD," a series of online videos for 14Hands Agency, and a music video for the song "The Whole World and You" by Tally Hall.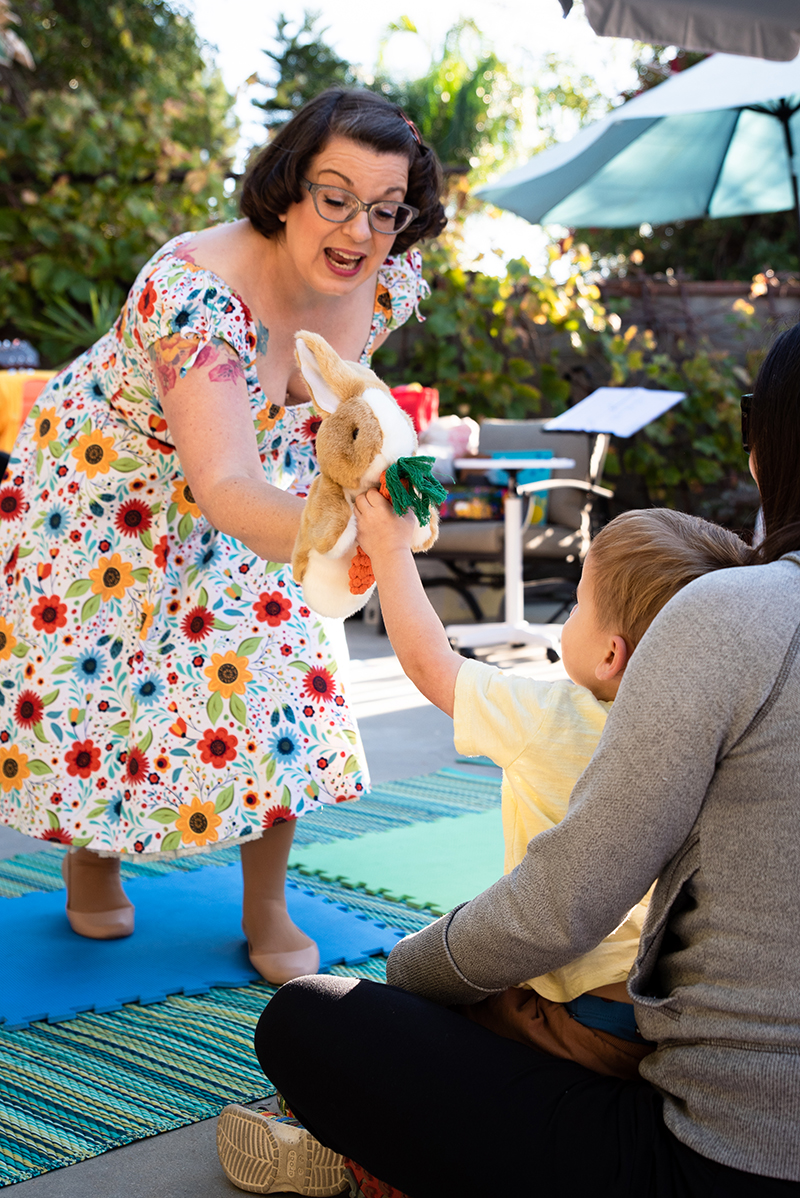 Short-form musical puppet theater is her specialty and she is a regular at puppet slams around the country. Alissa produced and performed in "A Puppet Music Thing" as part of the New York Musical Theatre Festival. Her sold-out cabaret show of songs, patter and puppetry "The Kid Inside" was presented as part of the Orlando Puppet Festival and has had performances at major NYC cabaret and theater venues, including Dixon Place.